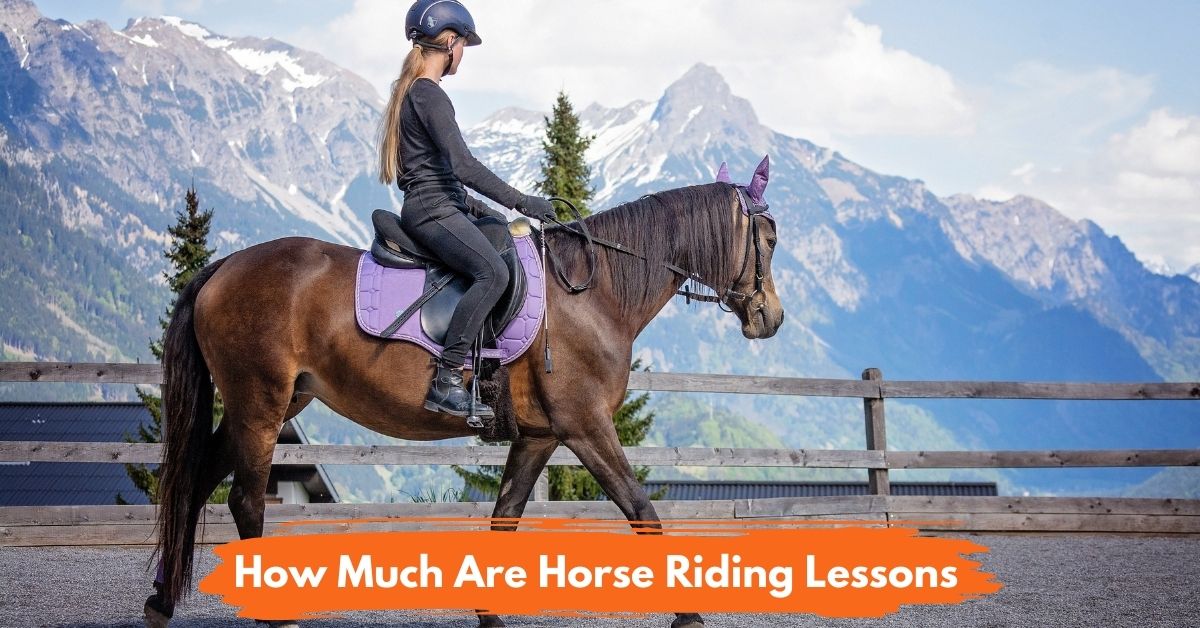 The cost of horse riding lessons is from $40 to $100 within the United States. It differs from state to state, so there's a price range. You can either sign up for a private class or a group class. So, the type of class causes the variation in the rate.
It's important to check the cost before starting a new hobby like horseback riding. This I say because I did before I became an experienced horse rider.
Even though I am excited to get started; I bear in mind that preparation is important. You'll agree with me if you're an economic wise person.
Not only that, I checked the rate in my area too. But I researched the cost of horse riding lessons all over the country. I'm not only going to share prices but other important details about horse riding lessons.
How Much Do Horse Riding Lessons Cost?
It's normal to think about horse riding lessons cost before you get started. Here is a comparison of the different types of classes. Know them all so you can pick the one that suits you best.
| Horse Riding Lesson | Cost of Lesson |
| --- | --- |
| Private | $55 - $90 |
| Semi-Private | $45 - $80 |
| Group | $30 - $70 |
Private Horse Riding Lessons
The average hourly rate for this lesson is from $55 to $90. It's the most expensive among the options due to some reasons. The first one is the dedication of the instructor to only one student.
Since you pay the most for this lesson, you have the entire learning time. It means you don't have to wait for your turn, as you can ask any questions right away. Your instructor can give you full attention.
You'll appreciate how you can get along with your learning phase in a private lesson. There's no delay in learning all the essentials of horse riding.
Setting the schedule of a private lesson is also convenient. A one-on-one class sticks with your progress and preference alone. Without fellow learners, the distractions are lesser.
I must say that the in-demand instructors can cost more. Sometimes, it's easy to schedule lessons with this person if you can pay more than other learners.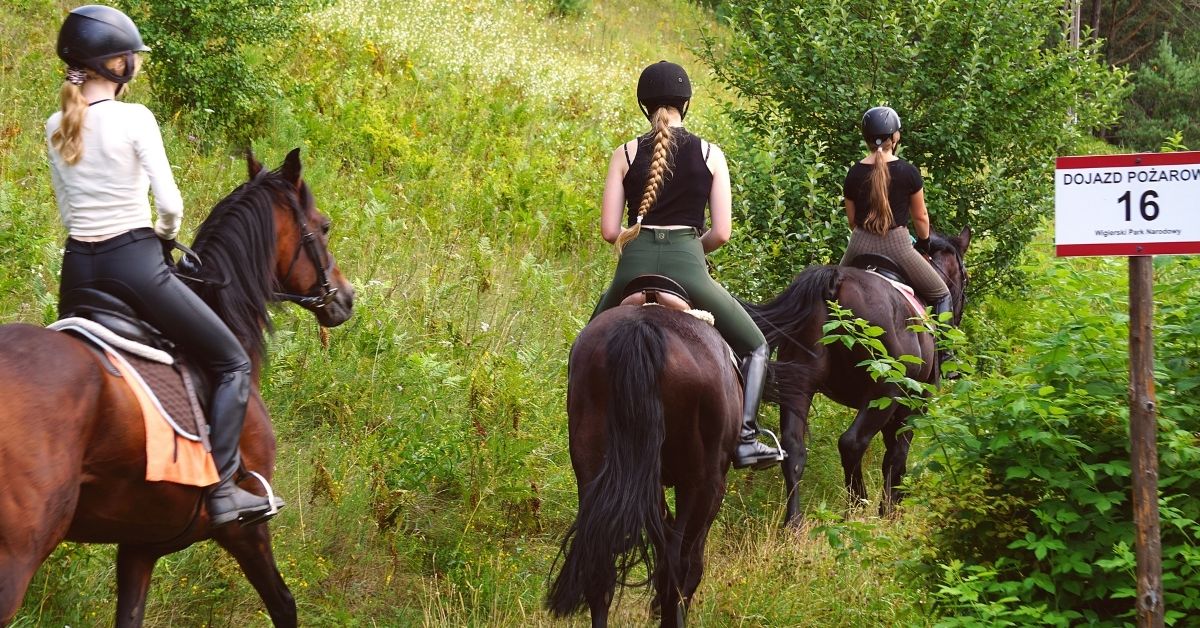 Semi-Private Horse Riding Lessons
You can expect a lower price than the previous one because two or three students are in the class. The hourly charge for this lesson ranges from $45 to $80. Though the rate is close to the full private class, you can still save some money.
There are advantages that you can appreciate even if you don't get all the attention of your trainer. If you think about it, a class of two to three people is not overcrowded. Everyone can get attention from the instruction and a chance to ask questions.
A semi-private lesson is perfect for friends who want to learn horseback riding. You can't feel awkward being alone with your instructor. It will be fun learning something new with friends.
Group Horse Riding Lessons
Group lessons are only $30 to $70. It's the option for those who are budget conscious but want to learn how to ride a horse. Despite the lowest price among the lessons, it's not the worst.
Different from the previous lessons, the instructor does not only focus on one person. In this class, there are five to six students.
Thus, the presentation of lessons is in general terms so everyone can learn. But there's a saying, 'the more, the merrier. It applies if the students in the class are at the same level.
No one will have trouble keeping up with the lessons. In this case, it's easy for an instructor to supervise the needs of every student in a collective manner.
Factors Affecting the Cost of Horseback Riding Lessons
Different arrangements set the cost of horseback riding lessons. The rate depends on the things that students can take advantage of. But you have to know that other factors affect their cost.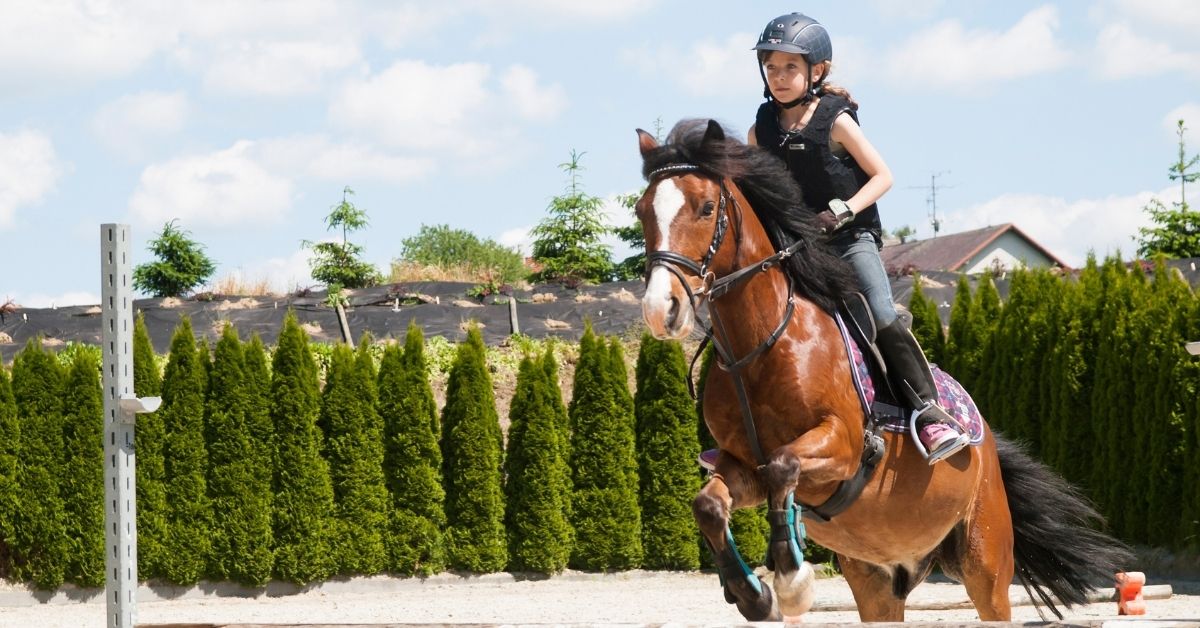 Location
As mentioned, the cost of horseback riding lessons varies from state to state in the US. Hence, location has a big role in setting the hourly rate of this lesson.
Expect to pay less when you have classes in an area or stable far from the city. But it's higher when you learn horse riding in the city or nearby. The property rates in rural areas can increase the lessons' charge.
Facilities in Riding Arena
The facilities in your riding arena affect the lesson rates. It's a discovery of a study at the Swedish University. Researchers also found out that new riding schools offer lower rates. It's the obvious reason for marketing.
You can find cafés and shower rooms in some riding arenas where your lessons take place. These facilities promise convenience after riding a horse. They sound good but bring price increase on lessons.
Duration
Since the charge for horseback riding lessons is per hour, you will pay more for an extended class. Also, you may only take a 30-minute class to reduce the amount that you have to pay.
Another way to cut the sum is to have fewer classes per week. This arrangement is fine if you're not a beginner who needs to learn the basics.
Instructor
The cost of your horseback riding lessons depends on your trainer's profile. Trainers who have impressive qualifications are sought after by many. They will, in turn, charge more than the others.
Horse Back Riding Lesson Prices in the USA
In the USA, the rate of horse back riding lessons depends on the state, city, and the riding facility branch. Private classes start at an hourly rate of $60 and up to $105. When joining a group class, you'll need to spend $40 to $80.
| City | Private Lesson Cost | Group Lesson Cost |
| --- | --- | --- |
| Dallas | $85 | $65 |
| Las Vegas | $60 | $40 |
| Los Angeles | $90 | $75 |
| New York City | $105 | $80 |
| San Francisco | $85 | $65 |
The lesson in an urban location is more expensive than the one done in a rural area. The latter is not only more affordable but more fun!
Horse Back Riding Lesson Prices in the UK
It might surprise you, but learning horseback riding in the UK is not costly. The hourly rate ranges from $25 to $45 in most cities except London. Private lessons are $40 per hour, while group classes charge $25 per student.
| City | Private Lesson Cost | Group Lesson Cost |
| --- | --- | --- |
| Belfast | $40 | $20 |
| London | $75 | $55 |
| Liverpool | $35 | $25 |
| Manchester | $40 | $25 |
| Newcastle | $40 | $25 |
As the capital of the UK, the hourly rate of horse back riding lessons in London is higher than in other cities. You must pay $75 for an hour of private lessons and $55 for a group class.
Horse Back Riding Lesson Prices in Australia
You have to prepare some money if you wish to learn horse back riding in Australia. The average hourly rate for a private class is $98, while it's $72 for a group lesson.
| City | Private Lesson Cost | Group Lesson Cost |
| --- | --- | --- |
| Brisbane | $95 | $75 |
| Canberra | $90 | $60 |
| Melbourne | $90 | $65 |
| Perth | $95 | $75 |
| Sydney | $125 | $90 |
Unfortunately, the lesson fees in Sydney are higher. A private class costs $125 per hour, and a group class charges $90 per student. I found out that the rates are lower in Canberra, the capital of Australia. The group class hourly charge is $60, and $90 for an hour of private class.
You may consider getting lessons in Melbourne as it's $65 for a group lesson and $90 for a private one. Brisbane and Perth are within the same price range. The group classes are $95, while the private ones are $75.
Horse Back Riding Lesson Prices in Canada
There are riding academies in Canada where you can learn horse riding lessons. The average hourly rate for a private lesson is $112, while it's $58 for a group lesson. 30-minute private classes are also available, but each hour costs $84. For obvious reasons, you can save from hourly lessons.
| Lessons Offered | Single Lesson | Monthly Package | 3 Month Package | Description |
| --- | --- | --- | --- | --- |
| Assessment | $90.4 | | | For new students prior to signing up for a group lesson |
| Group | $74.58 | $234.00 | $702.00 | 60 Minute lesson of 3 to 5 riders |
| Semi Private | $90.00 | $339.00 | $1017.00 | 60 Minute lesson of 2 riders |
| Private 30 Minute | $90.00 | $339.00 | $1017.00 | 30 Minute lesson, one on one with a coach |
| Private 60 Minute | $130.52 | $450.00 | $1350.00 | 60 Minute lesson, one on one with a coach |
| Practice Ride | $50.00 | | | Intermediate/advanced riders only |
The riding academies offer packages that let you save some bucks. They give freebies to packages with more lessons.
How To Save On Horse Riding Lessons?
After knowing the amount of money for horse riding lessons, you started calculating. Don't despair if you come up with a high sum. Here are some tips on saving on lessons and becoming a good horse rider.
Be In A Group Class
You may know now that group classes can save you some money. It's the cheapest among the options, but you can't say that it's the worst.
There are also advantages when you learn to ride a horse with others. You should realize that it's more fun to learn with other students. Besides, you won't feel overwhelmed in this class. Students can take turns in showing what they learn.
You can learn from fellow students. Be attentive to the techniques that they know and even to their mistakes.
You don't have to worry, as the trainer has general instructions that allow everyone to learn. The only drawback is that you don't get the full attention of your trainer.
Making Inquiries
It doesn't harm if you inquire about riding lessons from tack stores or saddle shop owners. They're the right people to approach as they know where you can avail cheap rates. They have a lot of chances to talk to stable owners and people in the horse riding community.
Saddle shop owners also know about riding schools. So, you can ask them for different kinds of advice.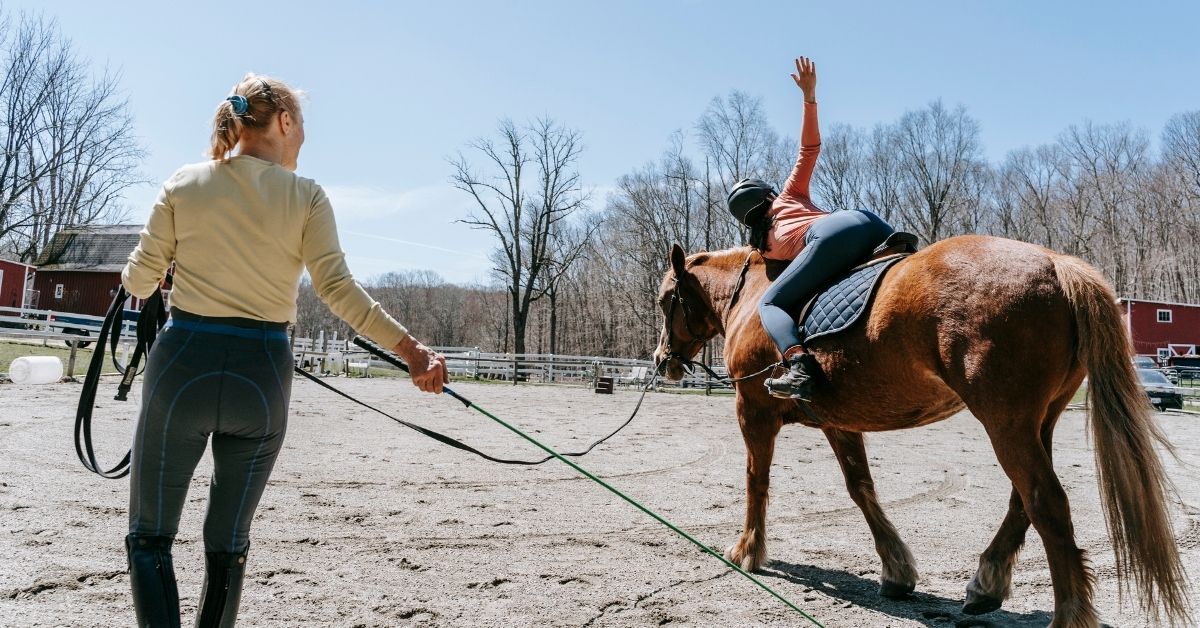 Opt For Shorter Durations
I mentioned that packages with more classes have a lower price than the few ones in Canada. You can decide whether you have to opt for a shorter or longer class period based on the rate in your area.
Working For The Horse Riding Lessons
You can work in exchange for horse riding lessons. Get fifty percent off the lessons fee if you clean stalls or do other chores. It depends on your agreement with the trainer.
FAQs
What To Wear Horseback Riding
Wearing proper clothing meets the physical demands and safety concerns of horseback riding. Beginners should adhere to the following guideline.
Long-fitted pants
It's unlikely that you will get pinched by a saddle if you wear long-fitted pants. Also, your legs get protection against sharp objects.
Rubber-soled boots
Apart from getting the right boots, make sure they're not too tight for your feet. Stirrup while riding can hurt if your boots are like squeezing your feet. They should slip into the stirrup with ease.
Boots with rubber soles lower the possibility of getting stepped on the mount. Be wary, as it's a common accident when horseback riding. This footwear prevents you from falling over on the slippery ground. It keeps your feet dry all the time.
Helmet
A helmet can protect your head from serious injury. You have to ensure the right fit to get this purpose. The helmet should sit on your head an inch above your eyes. You'll know that it fits your right if it doesn't wiggle.
How Old Should a Horse Be Before Riding?
A horse should be 2 to 3 years old before riding. Other trainers will let some horses under saddle at the age of 4 years.
How Far Can You Ride a Horse in a Day?
Given that a horse is healthy and energetic, you can ride it for 25 to 35 miles daily.
What Type of Horse Do Most Cowboys Ride?
When a cowboy talks about a horse, he always refers to a stallion. In general, a cowboy rides a light horse that stands 14-2 to 17 hands. This light horse can weigh from 800 to 1,200 pounds.
Some cowboys also ride Thoroughbred and Quarter horses for pleasure riding. They prefer dark-colored horses, so they like those in black, chestnut, and gray hues.
How to Ride a Horse For Beginners?
As a beginner in horse riding, you need someone to hold the horse while you mount it. Check your girth and make sure it's snug enough or else, it can roll without notice.
When mounting a horse, you must put your right hand on the saddle's raised back and your left hand on the horse's neck. Put your left foot and the ball on the stirrup.
Next, you have to raise yourself with the help of the left foot. Swing your right foot on the other side of the saddle. You have to make it swift and careful at the same time. Bear in mind that when you kick the horse, it can get startled and then run amok.
Once seated at the back of the horse, you can adjust the stirrups if necessary. Your left and right feet should be both on the stirrup.
Conclusion
When you're interested in horse riding lessons, you get curious about the price. You can choose from private, semi-private, and group lessons. Moreover, you know what to expect in these classes, including the hourly rate.
You can discuss your skills and what you want to learn with a trainer. So, you can get an idea of what type of lessons suits you best. Also, you have to make sure that the lesson fees are fine with your budget.